Voice of America: Palestinian Women with a Need for Speed
by Leslie Hollis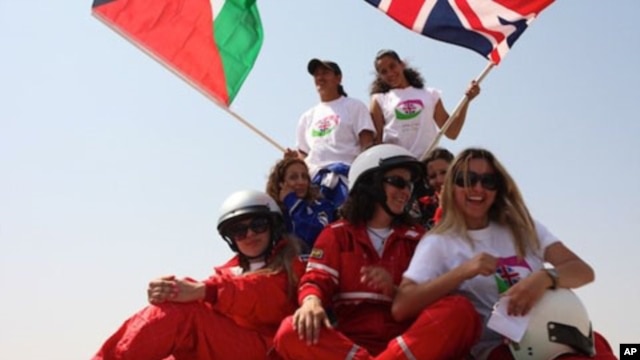 A different kind of racing team is speeding into the world of motorsports in the West Bank.
Out of the BMW racing car steps the driver, wearing a yellow and black racing suit. With sunglasses and a helmet, no one would notice anything unusual, until the driver removes the helmet. With a curly ponytail and a grin from ear to ear, female racing team captain Suna Aweidah waves to the crowd of onlookers.
Aweidah is a part of a group of women known as the Speed Sisters. The eight-member, all-female Palestinian motorsports team is racing through gender barriers in the West Bank. For Suna Aweidah, the Speed Sisters are a dream come true and the highest point in her struggle to fulfill an ambition of becoming a racecar driver. But as she explains, not everyone in the West Bank was equally excited to see females on the male-dominated racing track.
[...]
Listen to the report:
http://www.voanews.com/audio/Audio/5184.html
Read the article:
http://www.voanews.com/english/news/middle-east/Palestinian-Women-with-a-Need-for-Speed-99353094.html